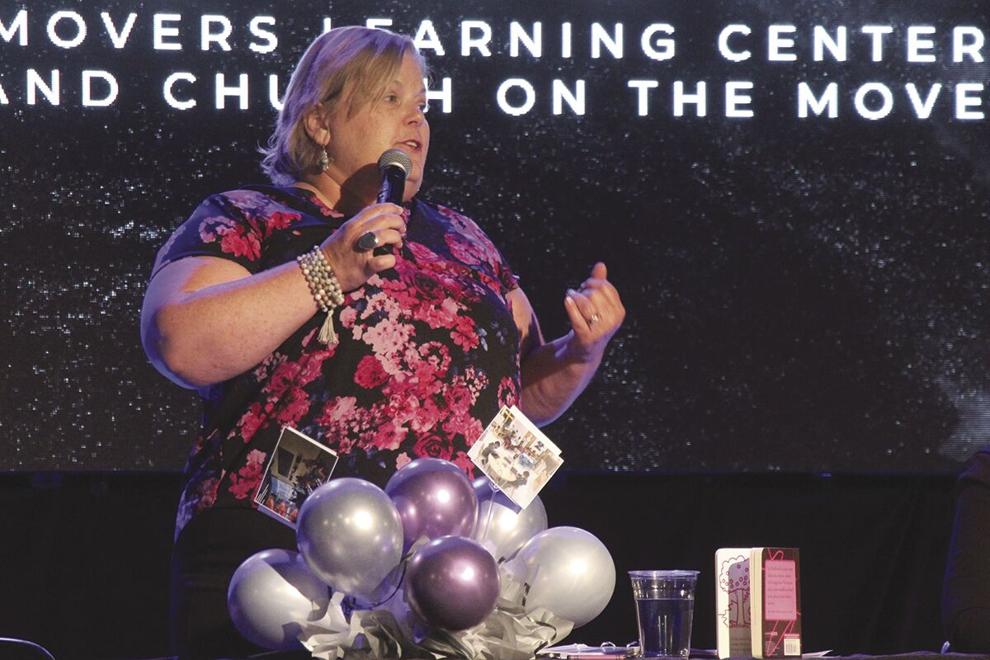 Future state aid discussed in meeting with cabinet secretary
Area child care providers told a state cabinet secretary on Tuesday government aid helped them stay open during the pandemic but now they worry what might happen to their businesses if that funding is not available in the future.
Elizabeth Groginsky, New Mexico Secretary of Early Childhood Education and Care, was in Roswell Tuesday as the seventh stop on a statewide listening tour that started in March. She and some of her staff met with area child care providers and educators at a luncheon at Valley Cafe, 901 W. Brasher Road. It was Groginsky's second visit to Roswell since being named secretary of the state's newest cabinet-level department in 2020.
The secretary spoke of recent benefits the state has offered such as the expansion of free child care to families. In April, Gov. Michelle Lujan Grisham announced that families with incomes up to 400% of the federal poverty level can qualify for waivers of copayments for child care services in the state's child care Assistance Program for a year, making child care cost free.
"We relieved that burden using our federal relief dollars to say a family of four (making) up to $111,000 will have no cost to their child care," she said.
The department has also used funds to boost revenue for child care providers after a study found they were charging clients what parents could afford rather than the cost of their service. Other funds have helped them increase salaries and educational opportunities for their staff, she said.
"In a year, we're going to be able to see what a difference this made for New Mexican families and our child care industry. I'm very hopeful this is going to be a game-changer," she said.
Lisa Reeves, director of Mighty Movers Learning Center, 900 W. Brasher Road, said the center had seen an increase in applications since the announcement of the expanded free child care program.
"We had quite a few families that had applied prior to the announcement and did not qualify, and we were able to send it to all of our families. It's definitely greatly appreciated by our families and helping them out financially," she said.
Susan Torres, director of Noah's Ark Christian Preschool and Kindergarten, 501 N. Sycamore Ave., said the state's financial assistance helped the school stay open during the COVID-19 pandemic.
"We are now up to pre-COVID numbers. We're up to 151 in our program right now and we have been encouraging our families to apply for contracts," she said.
Some families are hesitant to be on state assistance, she said, but she asks them what free child care for a year will do for their family.
"They're slowly coming around. We have had some new contracts," she said.
Juanita Segovia, owner and operator of Carousel Learning Center in Dexter, also said the state aid had helped her business, but she was concerned about next year.
"I never thought it was going to grow," she said of her business. "I have kids on the waiting list, it's just that I don't have that many staff."
She has been able to offer better pay for her staff, but she's worried that if future funding doesn't come through, she might have to take the raises away.
"Then if I get more kids, then what am I going to do?" she said.
Retaining staff is also a concern as they take advantage of state aid to further their education, she said.
"I had some that went all the way and got their bachelor's and left to the public schools because they get paid more. I don't blame them. They're doing the same work as public teachers — lesson time, observation, dealing with parents," she said.
Maria Arrieta, director of My Kiddos Child Care Center, 1111 S. Union Avenue Ave., also said wages and finding teachers has been a struggle, especially when the state's minimum wage rose in December to $11.50 per hour.
"A lot of people were already earning $10-$11, and now that gap is closing and they're expecting us to give them that difference all over again. We have to gradually give that to them, but they expect it a lot sooner than that," she said.
State aid helped My Kiddos give bonuses to staff rather than raises, she said.
"With all the money that we've received, we've been able to give them bonuses and that's the way we have kept them so far. I think with all the other funds they get for studying and all that other stuff, it's great, but at the same time they feel a little bit of that struggle, having to go to school, manage their family, all that stuff," she said.
She said My Kiddos has also lost staff to public schools as they further their education.
Groginsky said those are concerns that she's heard from other child care providers in the state.
"We've got to move forward and this is going to be a reality for New Mexico," Groginsky said of the wage concerns.
She pointed to the Early Childhood Trust Fund established in 2020 as well as the constitutional amendment on the November ballot to allocate funds from the Land Grant Permanent Fund to early childhood education and public schools as secure funding mechanisms.
The trust fund was started with a $320 million appropriation from the state general fund and is supported by oil and gas revenues and federal mineral leasing.
"We are seeing estimates coming out of the Legislative Finance Committee that that's expected to hit about $2 billion this coming year and could grow to as much as $4 or $5 billion in the coming years. That fund will distribute to the department 5% of the corpus of that fund or $30 million, whichever is greater," she said.
In November, voters will decide whether or not to allocate funds from the Land Grant Permanent Fund, whose revenue comes from leases and royalties on oil and gas. If passed, 1.25% of the market value of the fund would go toward early childhood education and public education on a 60-40 split.
"I think we all have to believe the money is there," Groginsky said.
"We're all going to have to take some risks so that when we come out of this at the end of the year, we're going to have shown that those investments actually made a difference in what our employees made," she said.
"We have a long way to go to educate our legislators and our community about the business of child care and why it costs so much, because it's human-being intensive. It's relationship-based work and you need to keep those good people in your programs and you need to pay them to keep them there," Groginsky said.
City/RISD reporter Juno Ogle can be reached at 575-622-7710, ext. 205, or reporter04@rdrnews.com.