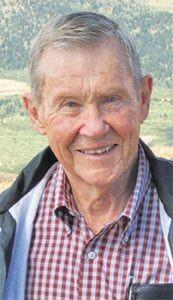 Born in Alexandria, Virginia on 17 January 1938 to Frederick Henry Doe and Elizabeth Camille Anstein.
Frederick David Doe grew up in Herndon, Virginia, and by second grade, he had already met the love of his life—Barbara Katherine Ledford; they started dating in high school and were married by age 21. Together he and Barbara raised seven children. They have always been a team.
His love for Christ Jesus shaped his life, and that love led him to devote himself to serving others—his patients or colleagues, his friends. Every person he met was his neighbor. And the faithfulness and dedication with which he has served both his church, fulfilling the role of elder for decades, and his family, especially his wife who he served all of his days, models a godly life and has set the course of his family's lives in innumerable ways. Frederick was a loving father to his family and a loving son and brother.
In high school, Fred played football and basketball, was a member of the speech club, and played clarinet in band. He graduated as valedictorian. He went on to complete an undergraduate degree in Psychology from the University of Virginia and later graduated from UVA's medical school. He served his country in Vietnam as a physician and a captain in the U.S. Army. Subsequently, he returned to UVA and completed a residency in Pathology.
While Fred pursued his medical degree, Barbara worked as an RN. As a married couple, they have lived in many places, including the cities of Charlottesville, Stuart, Crozet, and Wytheville in Virginia, and Okinawa, Japan. In 1977, the family moved to Roswell, NM, where Frederick became a partner at Pathology Consultants of New Mexico. For the last 20 years, he has worked with prisoners at the national, state, and local level. He has held the positions of Chief of Staff at a local hospital and Medical Examiner for New Mexico.
Frederick David Doe was preceded in death by his parents, his sister Caroline, and two grandchildren, Atticus Bartholomew Centurion Doe and Corrie Grace Doe. He is survived by his wife Barbara and his children and their spouses—Kathie and Carl Little, Anne and Jeffrey Overstreet, Erin and Paulene Doe, Jeremy and Gretchen Doe, Victoria and Marco Barron, Aaron Doe, and Angela Hofrichter, as well as his numerous and beloved grandchildren—Amelia, Aubrey, Alicia, Abigail, Alaina, James (children of Kathie and Carl Little); Frederick Christian, Alaric, Charlotte, Peter, Benjamin, Charis (children of Erin and Paulene Doe); Frederick Alexander, Isabelle, Auralia, Solomon, Sojourner, Evermore (children of Jeremy and Gretchen Doe); Gabrielle, Elijah, Nathan, Isaac (children of Victoria Barron), and Ethan (child of Aaron Doe), as well as several great grandchildren—Gideon, Arlo, Murron, and Seamus.
Visitation for Fred will be 4:00 PM to 7:00 PM, Sunday, June 23, 2019 at LaGrone Funeral Chapel. Funeral service will be held at 10:00 AM, Monday, June 24, 2019 at LaGrone Funeral Chapel. Interment will follow at South Park Cemetery.
In lieu of flowers, please donate to the Gideons (Gideons.org/donate) or Food for the Hungry (FH.org/give).
Arrangements are under the personal care of LaGrone Funeral Chapel. Online condolences may be made at www.lagronefuneralchapels.com.