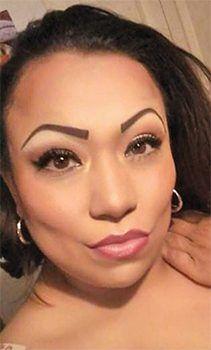 There will be a Rosary on Thursday, January 20, 2022, at 6:00 PM at Anderson Bethany Funeral Home. A Memorial Service for Melissa will be held on Friday, January 21, 2022, at 10:00 AM at Anderson Bethany Funeral Home. Interment will follow at South Park Cemetery.
On June 23, 1987, Melissa was born to Albert and Nellie Carrillo in Roswell, New Mexico, where she graduated from University High School. She was of the Catholic faith and loved helping others in any way she could. Melissa was the beloved wife of Aldo Gonzalez. She was a full-time mother and housewife who loved her family.
Melissa was always smiling and laughing; she loved having fun and playing with her daughters outside or doing inside activities. Cooking, singing, dancing and making TikTok videos were some of her favorite things to do. She enjoyed the outdoors, going for rides and traveling to different places to visit her family. Melissa loved selling make-up, red roses & white roses, and she absolutely loved frogs for some reason. Her smile and presence will truly be missed.
SURVIVORS: Melissa leaves behind her husband, Aldo Gonzalez; daughters: Adilene, Clarissa and Yamilet Gonzalez; parents: Albert Carrillo, Nellie Carrillo and Benigno Carrillo; sisters: Trish Hernandez, Rebecca Carrillo, Heather Carrillo, Lucero Porras; brothers: Albert Carrillo, Frank Carrillo, Leroy Carrillo, Anthony Moragne and Benigno Carrillo; nieces and nephews: Gabriel and Aaliyah Carrillo, Brianna, Robert, Daniel, Adrianna Hernandez, Jorge Lerma-Molina, De Marcus and Lanissa Carillo, Yosi, Kimberly, Anahi, Santi, Diego and Jimena Gonzalez.
PRECEDED: Melissa was preceded in death by her daughter, Ruby Isela Gonzalez; and her grandparents: Fidencio and Maria Soledad Serrano.
HONORARY PALLBEARERS: Those blessed as Honorary Pallbearers are Albert Jr. Carrillo and Daniel Hernandez.
PALLBEARERS: Those honored to serve as Pallbearers are Joaquin Serrano, Frank Carrillo, Leroy Carrillo, Anthony Moragne, Gabriel Carrillo and Jamie Serrano.
The family would like to give a special thank you to the Carrillo family, Selene, Miria, Jenny y toda la familia Gonzalez, Tio Joaquin y Licha Serrano (Mama Licha), Joaquin (Junior) Serrano, Rosa Serrano, Johnny and Elvia Banda, Lily Acosta, Marie Navarette, Chelo Salas, Jesus and Norma Serrano, Alma Carrillo, too many other Serrano's, aunts, uncles and cousins to name. She loved everyone very much! Thank you to everyone who has shown support, donated, or helped Melissa's family in any way.
To plant a tree

in memory of Melissa Rose Gonzalez

as a living tribute, please visit Tribute Store.