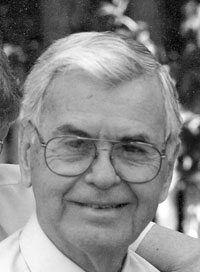 Robert "Bob" Bergmark, 88, of Roswell, New Mexico, passed away, Sunday, April 29, 2018 in El Paso, Texas.
Robert was born May 14, 1929 in Bridgeport, Connecticut, to John and Lillian (Leggett) Bergmark. He graduated from High School in 1947, where he enjoyed playing on the baseball team. Robert served in the United States Air Force from 1948 to 1955. He also pitched for the Air Force baseball team during this time. During his service, he met the former Helen Morehead at Hamilton Air Force Base in Novato, California, where they married on July 14, 1952. They were married 65 years and he was often heard saying that marrying Helen "was the best decision of my life." During all 65 years of marriage, he always had at least one family pet and was a true animal lover.
During Robert's life, he worked as a mail carrier, a milkman, and held several positions in food delivery and sales. He was an active member of the Roswell Elks Lodge, and the First Presbyterian Church of Roswell. He enjoyed sports, especially if the Boston Red Sox or New England Patriots were playing, visiting with friends at the Elks Lodge, and calling bingo at the Elks on Thursday nights. Family and friends know that he had a quick wit and great sense of humor and always had a friendly disposition. He enjoyed his times acting in plays and murder mysteries in Roswell, and the times he spent singing.
In 1976 for the bi-centennial, Robert and Helen walked and rode bicycles across the country, starting in Rhode Island, in support of the American Heart Association. This was an exciting and memorable journey that took several months.
Before moving to Roswell, New Mexico, Robert lived in Rhode Island for many years, and also lived in El Paso, Texas; Tucson, Arizona; Brighton, Colorado; Novato, California; and Syracuse, New York.
Robert is survived by his son, John Bergmark and his wife Maureen of Vista, California, his daughter, Susan Middleton and her husband Don Middleton of El Paso, Texas, his brother, John Bergmark of Bristol, Rhode Island, his sister, Janice Gallagher of Glastonbury, Connecticut, four grandchildren, Neal, Lily, Robert, and David, three great-grandchildren, Natalie, Jadyn, and Stacey, many nieces and nephews and other extended family, and his beloved dog, Beulah. He was preceded in death by his parents, John and Lillian Bergmark, his wife Helen Bergmark, his brother, Gene Bergmark, and his son, Paul Bergmark.
A memorial service will be held in Roswell, New Mexico, at a later date. In lieu of flowers, please send a donation to the Roswell Humane Society in Robert's name.